25 animal welfare experts, including BBC presenter Chris Packham OBE and Veterinarian Professor Dr. Andrew Knight, have joined Open Cages' #TescoTruth campaign with an open letter addressed to Tesco CEO Dave Lewis.
The letter heavily condemns the painful farming conditions inherent in Tesco's chicken supply chain. Tesco uses what campaigners often dub FrankenChicken – chickens selectively bred to grow so quickly that they can't always even stand up on their own legs when fully grown. This leads to serious and painful health problems, ranging from ammonia burns to heart failure. 
In a story by the Daily Mail , Dr. Andrew Knight said: "Tesco is the leading retailer of chicken meat in the United Kingdom. Accordingly, Tesco has the greatest corporate and social responsibility to safeguard the welfare of these animals. And it's clearly failing to meet that responsibility."
Mr. Packham echoed this message in a tweet, pointing out that the retail giant is clearly trying to avoid protecting chickens in their supply chain from immense suffering.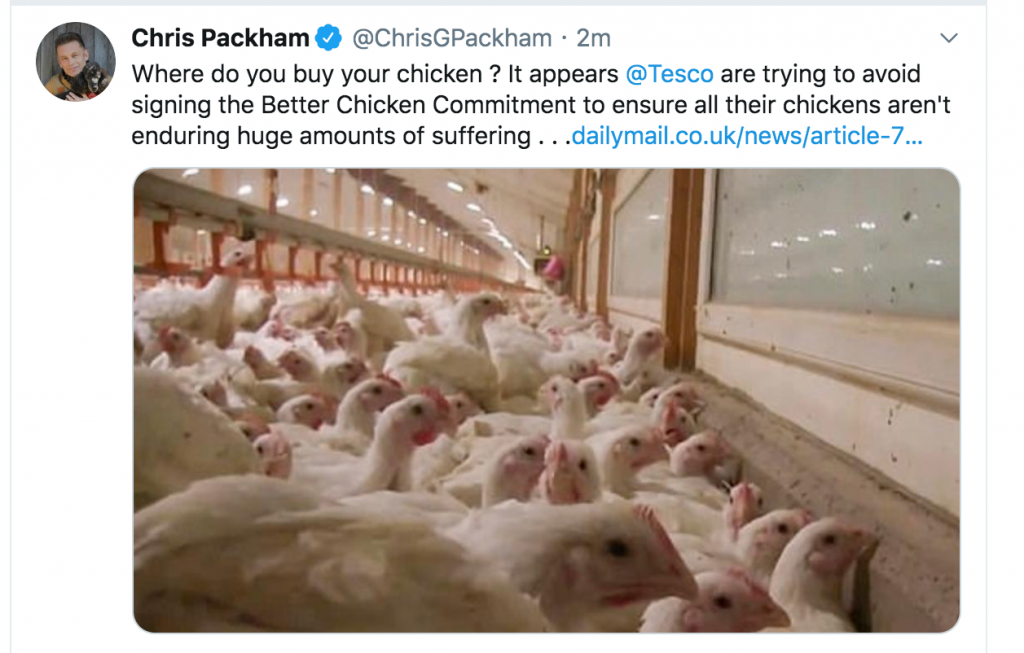 In an effort to steer attention away from the issue, Tesco  that they will introduce a new range of indoor reared chicken with extra space. However, this means that they will continue to put chickens through miserable lives on intensive factory farms, which produce over 90% of the chicken sold in the UK. The only way Tesco can achieve any meaningful progress is to commit to raising their minimum standards for all chicken – this is why Open Cages and the experts are asking them to sign the Better Chicken Commitment.
With both the public and the experts now calling for Tesco to take the welfare of their chickens seriously, we are optimistic that progress can be made. However, the fight is far from over an we still need your help. As a potential customer, your opinion carries a great weight. Please help us by telling Tesco how you feel about them ignoring the suffering they cause to animals:
Email Dave Lewis at dave.lewis@tesco.com

Tweet the Daily Mail Story on animal welfare experts condemning intensive chicken farming and tag @Tesco.
With you and the expert opinion on our side, we can change the way animals are treated in this country. Thank you for your effort.