Behind barbed wire and fences on large-scale, industrial-sized farms, far from towns and cities whose populations know little of its existence, thousands of foxes and mink frantically jump from side to side in tiny cages trying to escape their confinement; some lie or sit quietly on the wired floor, lacking any interest in their surroundings; many have deep wounds and some have missing ears or eyes; and some are dead, skinned for their fur, and left to rot unceremoniously in a pile. These are just some of the horrific conditions witnessed on Klatki: The Hidden Farms of Europe (2018), a documentary by Open Cages President C.M. Jackson, which follows Open Cages activists in Poland as they uncover the shocking fate of animals in the fur farming industry.
The U.K. banned fur farming in 2000 as a result public, political and scientific consensus that the rearing of wild animals for their pelts causes those animals significant, unjustifiable suffering, and should therefore never be permitted. However, we continue to import a substantial quantity of fur; from April 2017-March 2018 around £75 million worth of animal fur was imported into the U.K. from countries like Poland which rank amongst the largest producers of fur in the world. Whilst fur is no longer produced on our shores, we are fuelling and endorsing this inherently cruel practice by allowing fur to be sold. Outsourcing this cruelty is inconsistent with our own laws!
Open Cages has been at the forefront of the anti-fur movement since our first investigations into Polish fur farms in 2011/2012. Over the past six months, we have been working hard to make Britain fur-free. With the gaining momentum of the government e-petition, we joined forces with Humane Society International (HSI) and the coalition campaign #FurFreeBritain. Whilst pushing the official petition, we have worked with the media to publish multiple investigations and stories, seen by hundreds of thousands of the public; we have also lobbied MPs and politicians to support a fur import ban. Gaining the backing of MPs and raising public awareness regarding fur farming has been an extremely crucial part of our work, launching the issue into the national consciousness. Following the release of Klatki, we demonstrated outside London Fashion Week (LFW) in February, during which we held a deceased fox and called for the government and LFW to support the ban.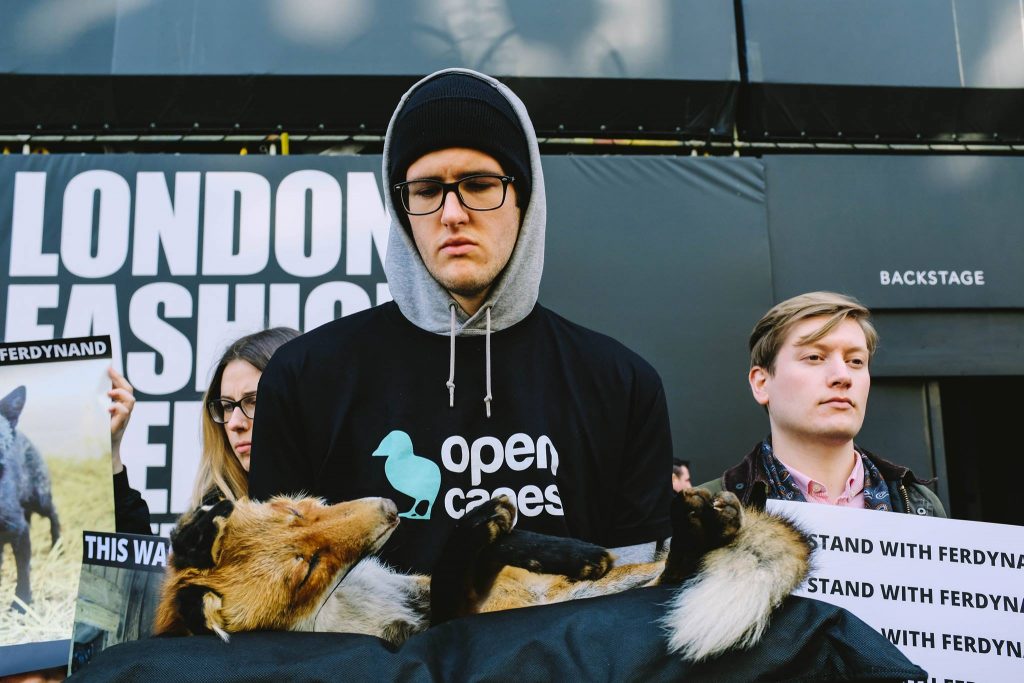 We stood outside London Fashion Week in February holding a deceased fox.
The success of the government e-petition resulted in a parliamentary debate on 4th June. This was the perfect opportunity to rally outside Parliament and send a message to the government that we must ban fur in the U.K. Together with HSI, we held an extremely successful demonstration with over 100 activists turning up to show their support. Also in attendance was the Labour shadow chancellor John McDonnell whose party, later that day, pledged to ban fur imports into the U.K. The debate itself was hugely positive. The room was unusually busy, with every single MP that spoke expressing passionate support for the ban. Almost all MPs mentioned they had received hundreds of messages from their constituents urging them to ban fur imports, and one MP even said it was her single most requested issue. Despite overwhelming support from MPs, the Government did not commit to the ban.
We demonstrated outside Parliament on the day of the Parliament debate where MPs showed their support for a #furfreebritain
So we've still got more work to do! We must maintain the momentum of political and public support we have gained through the campaign so far to ensure pressure is placed on the government to make the right decision. The #FurFreeBritain coalition are working on drafting and submitting a bill with the aim to encourage the government to hold a public consultation on a fur sales ban. We will also continue to collect petition signatures, gain further support from MPs, continue to investigate fur farms to keep their cruel practices in the public eye, and work with universities, businesses and councils to join our campaign.
We hugely appreciate all the support we have received during this campaign; to all the activists who came out in force at London Fashion Week and on the day of the debate, to all those who signed the petition, to all those who have supported us in any way, we thank you immensely. Without you, our work would not be possible.
But we haven't crossed the finishing line yet. We still need your help and support.
Together we will make fur history!
Fox photo: Lily Mendes Da Costa Photography
Originally written by Catherine Reda