The BBC Springwatch star has reacted in horror to our footage, and joins us in calling for Tesco to sign the Better Chicken Commitment.
You have no doubt by now seen our shocking investigation revealing chickens in 'chronic pain' on farms supplying Tesco.
Thousands were outraged. And now TV Presenter and Naturalist Chris Packham has come out in heavy criticism of Tesco's inaction.
"These poor chickens are living a nightmare." he said in an article in the Daily Mirror. "Being made to grow so fast that you can't even stand is cruel beyond belief, and it's a practice that has no place in British society."
Chris Packham is nothing short of a hero for animals. And he is unrelenting in his opposition to animal cruelty. We are honoured to have him as one of 51 animal welfare experts adding their name to our open letter to Tesco.
Chris told the Mirror: "If Tesco wants us to believe they take animal welfare seriously, they must walk the walk: they must sign the Better Chicken Commitment. There's no excuse for treating animals this way, and I applaud Tesco's competitors who have committed to addressing this cruelty responsibly." Well said, Chris.
Unsurprisingly, Tesco ignored the hundreds of comments on Chris' tweet from outraged customers: instead they answered the few questions about plastic only. If Tesco has nothing to hide, why not answer their customers about this?
Comedian John Bishop also shared his thoughts on the investigation, condemning the 'unnecessary suffering.'
Tesco is still failing to sign the Better Chicken Commitment like KFC, Waitrose and Marks and Spencer. In response to the footage they said they were "continuing to monitor compliance against our own stringent welfare standards." But don't be fooled by fluffy talk of "stringent welfare standards."
As Chris and the animal welfare scientists argue, it is Tesco's own "welfare standards" which are the main factors causing the suffering captured on film – fast-growing FrankenChicken breeds and overcrowded sheds. These issues have led over 150 companies across Europe to commit to the Better Chicken Commitment.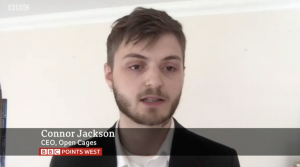 Rather than adopt the Better Chicken Commitment like a responsible business, we have been provided with assurances that the retail giant takes "animal welfare extremely seriously." We at Open Cages strongly criticise this response as in stark contrast to the evidence. We shared our thoughts with BBC News here.

Thank you Chris, and thank you to every one of you for your support as the campaign continues. Please stand up for chickens by signing and sharing the petition!