The fur industry has been making headlines recently – and not in a good way. It seems as though hardly a week goes by without the cruel practice of fur farming becoming caught up in yet another scandal.
In the last few months alone, we've seen mutant strains of COVID take hold in Danish mink populations, and fur farming bans sweep across Europe.
As the fur industry spirals rapidly down to destruction, it can be hard to keep up. That's why we've put together this handy guide, so you can finally answer the question: what is going on with the fur industry?
Fur bans across Europe
Since the start of this year, a number of fur farming countries have introduced restrictions or bans on the practice.
Late last month, Hungary became the latest to join their ranks, with a total ban on fur farming involving all species except for chinchillas.
There are no farms in Hungary that will be covered by this ban. But as a precautionary measure – to stop fur farmers moving to Hungary from elsewhere in Europe – it could still make a big difference.
Why might fur farmers be considering their next move? Because 2020 has truly been the year of the fur farming ban.
Since the start of this year, France and the Netherlands have both announced total bans on mink farming. And even Denmark, the second largest fur producing country in the world, announced that it will be closing its largest fur auction house within the next two to three years.
From an outside perspective, it may seem as though this progress is sudden or unexpected. But the demise of the fur industry has been coming for a long time. Even before this year, fur farming was already banned or being phased out in Germany, the Czech Republic, Austria, Norway, Belgium, and many more countries across Europe.
What has made this year exceptional, though, is the crushing combination of targeted activism and understandable COVID fears.
COVID in minks
2020 has been nothing if not a year of twists and turns.
Few could have predicted that the events of this year would turn fur farming in Europe into a serious public health threat.
Millions of minks are killed for their fur every year; they're one of the most common animals in the fur industry. They're also highly susceptible to COVID-19.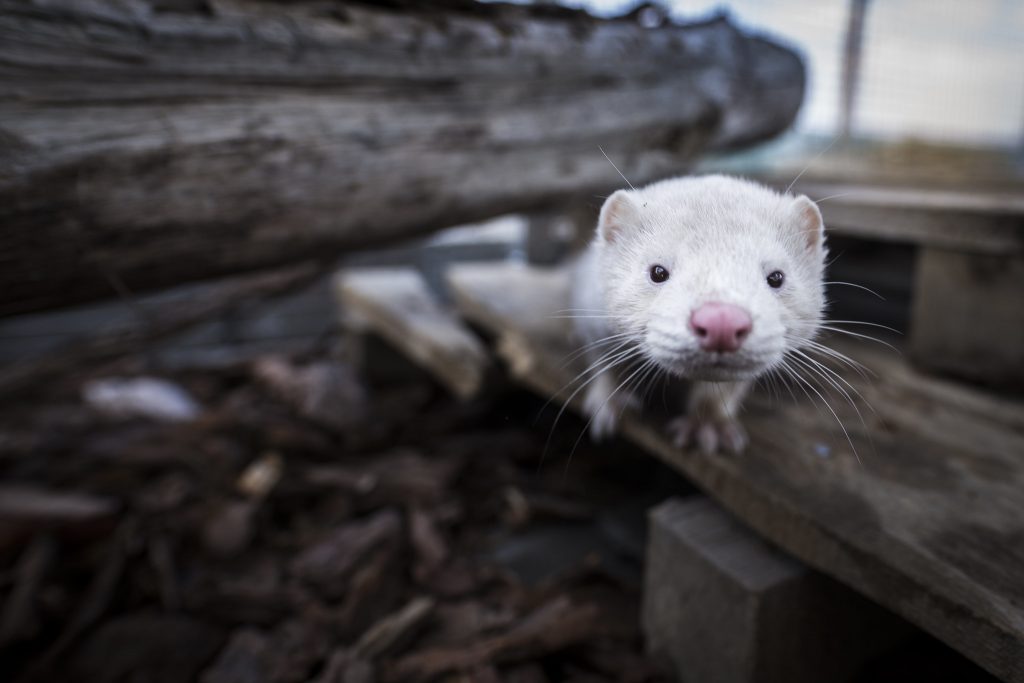 This would be true no matter what – the way the virus works just means minks as a species are vulnerable to it. But the cramped and filthy conditions in which many minks live and die are certainly not helping to slow the spread.
COVID outbreaks have roared across mink populations around the world. And in places, the virus has jumped back from minks to humans, threatening to create dangerous mutations that could make fighting the pandemic even harder.
Mink-farming countries have tried to stop the spread. From Ireland to Spain, hundreds of thousands of minks have been culled. In Denmark, lawmakers ordered an illegal cull of 17 million of the poor animals – then had to rethink their plans when the dead bodies of the culled minks started rising out of the ground they were buried in.
Culling the animals – a process which is often painful and frightening for the minks – will not solve the problem. Although evidence suggests the mutations coming from minks aren't dangerous right now, future mutations could make COVID vaccines less effective.
And did you know that thousands of minks escape from fur farms every year? Those escapees could carry COVID into wild mink populations, creating a situation where new strains of the virus could keep coming back again and again.
The COVID mutations in minks have shown the world the dangers of fur farming – and at this rate, it seems unlikely that the fur industry will bounce back. The culls have put an added financial burden on an industry that was already struggling, due to decades of activism and increased opposition to fur amongst the general population. And now, finally, many countries are considering fur bans or restrictions that would have been unthinkable even a year ago.
Fighting fur until the very end
COVID fears aren't the only thing that's dragging the fur industry down. Far from it. Activists across the world have been fighting this cruel practice for decades – and their hard work is paying off.
The fur ban in France came about in large part because an organisation called One Voice exposed the cruelty of the fur industry. And in Poland, Open Cages activists are very close to achieving the same thing, after footage they took on a fur farm caused a national outcry.
In fact, the Polish lower parliament (the Sejm) passed a bill to ban fur farming back in September. Now MPs need to consider some amendments that were added by the upper parliament, which could take a while. But the legislative process is very much in motion.

Meanwhile, in Estonia – another country where Open Cages operates – our colleagues have been fighting for a fur ban of their own. A bill to ban fur farming for good passed its first reading in the Estonian parliament back in October, and there are hopes it could make it all the way to becoming a law.
Where does this leave us in the UK?
The UK banned fur farms back in 2000. But we still import millions of animal skins every year.
Allowing the fur trade in this country means we're enabling animal cruelty. It's that simple. That's why Open Cages and other organisations are fighting for a permanent ban on fur sales in the UK.
Now that fur farming is on the brink of collapse, there's never been a better time to take action. There's a real possibility that we could shut down the fur industry for good – but we can't afford to wait and see what happens.
For the month of December only, all new monthly donations of £8 or more will be matched by a generous donor. That means for every new monthly donation of £8 or more, Open Cages will get a £20 bonus gift right away – to go towards fighting the fur industry.
Start your monthly gift today by clicking here – and be part of this historic movement for change.
Thank you for supporting us. Together, we will take down the fur industry once and for all.