UK supermarkets like Tesco remain committed to using cruel 'Frankenchicken'
The UK has now fallen far behind broiler welfare standards in Europe, with over 99% of France's supermarket industry committing to the Better Chicken Commitment – British retailers remain committed to using cruel and outdated methods.
Modern meat chickens are subjected to intensive practices which put them in danger of suffering chronic pain and stress. In the past few years, over 150 companies in Europe and the UK have signed up to the Better Chicken Commitment – an global initiative which requires a company to eliminate certain practices from their chicken supply chain by 2026 – including the use of Frankenchickens. Major UK supermarkets like Tesco continue to use these intensive methods despite their reputation being associated with serious animal cruelty.
'Frankenchickens' are chickens who have been selectively bred to gain weight very fast. With a slaughter age of only 5-6 weeks old, this practice can significantly contribute to the development of severe welfare problems, such as chronic leg disorders, ascites and sudden death syndrome. They are kept inside facilities in huge numbers – with less than an A4 sheet of paper in space per animal on average in their last weeks of life. The birds literally live on their own waste, and the waste of others, often resulting in chemical burns to their skin.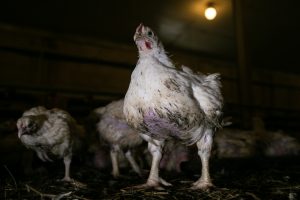 With the announcement of Leclerc (France's largest supermarket) signing the Better Chicken Commitment for all of their own brand products that contain 50% or more chicken, they join ALDI France and all other major French retailers – setting our closest neighbour to overtake British chicken welfare. Progress in Denmark sees ALDI & LIDL already removing Frankenchickens from their Danish supply chain as of 2020. In the UK, companies like KFC, Nando's, Waitrose and Marks and Spencer have all signed the commitment, but most major British supermarkets – those representing the largest share of and influence on the chicken industry – are yet to. The UK's 'high animal welfare standards' are quickly becoming outdated and questioned.
Open Cages and the RSPCA have been tirelessly campaigning for Tesco to sign the Better Chicken Commitment. Together handed in petition signatures of over 350,000 customers urging them to sign the commitment, but Tesco ignored their concerns. We worked with dozens of animal welfare experts who signed an open letter condemning Tesco's broiler standards as 'painful.' We and Animal Equality UK have published horrific exposés of chicken farms linked with Tesco revealing serious animal suffering in their chicken supply chain – but still the company refuses to stop these cruel practices.
As bizarre as it sounds, British supermarkets seem comfortable with their chickens being at risk of suffering chronic pain. Not only are boasts of 'high standards' vague PR spins, they are rapidly becoming factually untrue as our closest neighbour France surpasses us. Retailers like Tesco are betraying their loyal customers who want better, and even betraying the British people by keeping our animal protection standards in the dark ages. The Better Chicken Commitment is the only way for companies like Tesco to address this barbaric cruelty.
Sign and share the petition urging Tesco to stop this cruelty!