Severely lame chickens were filmed wallowing in their own filth, as 51 animal welfare experts sign our open letter urging change.

This Summer Open Cages launched an investigation into Tesco's chicken supply chain, as part of our campaign for the UK's largest retailer to sign the Better Chicken Commitment. This week we published the footage in The Times, the Daily Mirror, Metro and it was discussed on BBC 4.
The investigation
We investigated two intensive chicken farms in the South West of England – Avara Foods in Gloucester and Hay Farms in Hereford. Both of these farms supply Tesco with cheap chicken. What we found was nauseating.
I have seen a lot of graphic footage from factory farms, but this really shocked me. On both farms we discovered chickens with severe lameness. This painful and debilitating condition is a result of being rapidly growing "Frankenchickens", and it puts them at risk of dehydration, starvation and even sudden death.
In considerable strain, a broiler chicken on the Gloucester farm attempted to stand but defecated all over themselves – and frantically failed to rise from the waste. I was heartbroken to see their scared and confused face.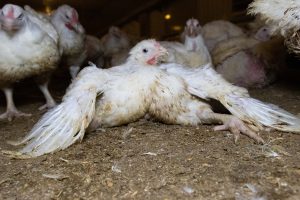 What's more, both farms showed almost identical scenes of suffering. Panting and unable to lift from the faeces and urine covered floor, the skin of many of the chickens was covered in red sores, an all too common result of painful ammonia, which causes – in effect – chemical burns. Dead bodies of those who didn't make it are left to rot on the barn floors, as others peck at or walk over the bodies jostling for room. Thousands of birds forced to live in highly crowded conditions jammed together wing by wing – an environment that causes immense stress for social animals like chickens.
Paperwork on the Gloucester farm – which is owned by Tesco's main supplier Avara Foods – reveals that over 2000 chickens had died in that one barn in 33 days.
Animal welfare experts take action
Tesco was met with heavy criticism. 51 scientists, including professors of veterinary science at the Edinburgh, Bristol and Surrey, have signed our open letter to Tesco urging them to sign the Better Chicken Commitment, which sets minimum welfare standards. Hundreds of you have written to Tesco in outrage and taken to social media. In the words of Chris Packham, "this is appalling."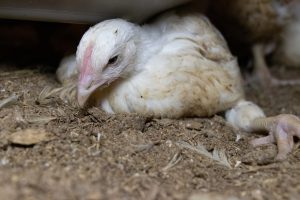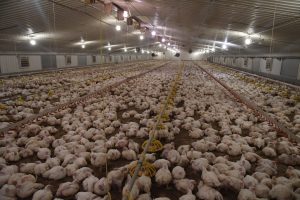 This is far from the first time Tesco's chicken supply chain has been exposed by us or our friends. Their policies remain outdated and insufficient.
Waitrose, M&S, Greggs, KFC, Nandos and Pizza Express are among the companies which have signed the Better Chicken Commitment, which requires them to switch to using slower-growing breeds and give birds more space by 2026.
The powerful open letter reads "By signing the Better Chicken Commitment, Tesco has the opportunity to improve the lives of many millions of chickens and convincingly demonstrate to the public its commitment to animal welfare and corporate responsibility." 
So the most important question remains: what are Tesco doing to address this cruelty? Are they taking heed of the letter?
Tesco refuses to act
Commenting in The Times Tesco said: "Independent audits of both farms found that all assurance scheme and legislative requirements were being met but we are continuing to monitor compliance against our own stringent welfare standards." 
What does this vague statement mean? It means that according to Tesco, the farms were not doing anything wrong. The suffering you see is a direct result of Tesco's insufficient, cruel, cheap practices. Their 'welfare standards' are the same ones that allow the use of Frankenchicken and highly overcrowded conditions. Tesco even admitted that on their last inspection in 2019 to the Hereford farm their inspectors reported 'no issues.'
Next steps for the campaign
It's time Tesco's decision makers faced up to their responsibilities. Key players like John Kirkpatrick (Tesco's Agricultural Manager for Poultry and Eggs) have been dismissive of the scientifically backed Better Chicken Commitment publicly, showing their lack of commitment to stop the practices we uncovered that are causing pain and suffering to chickens. With Tesco's new CEO Ken Murphy now taking over, we hope the direction of the company will take animal welfare far more seriously than they have up until now.
Tesco has now come under fire from Open Cages, the RSPCA, public figures like Joanna Lumley and Chris Packham, and hundreds of thousands of outraged consumers for refusing to sign the Better Chicken Commitment. Over 150 companies have signed it across Europe and the UK, but Tesco on the other hand, appears unwilling to take chicken welfare seriously.

Can these poor chickens count on you to speak up for them? Head over to tescotruth.org to learn more, and take action with us today.
Thank you for your support. The campaign continues!